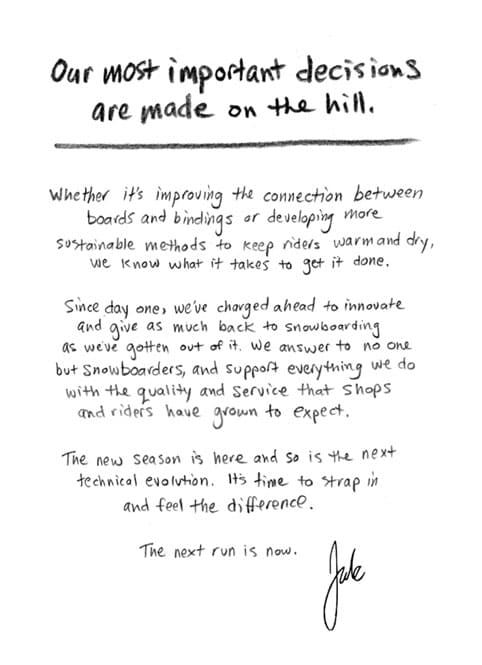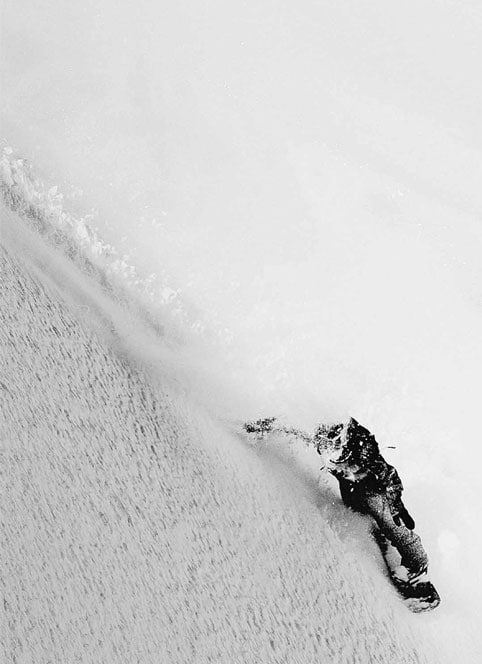 Jake's Timeline
08.09.14
Day #1 of the Season
Jake logs his first day of the snowboarding season at Valle Nevado in Chile with Burton team riders and his family.
05.14.14
Burton Names New CEO
03.08.14
32nd US Open at Vail
03.01.14
Success, One Board at a Time
02.13.14
2014 Olympics Halfpipe
Another Olympics halfpipe competition is in the books, and Jake & Donna were there to take it all in as Burton riders Ayumu Hirano (silver), Taku Hiraoka (bronze) and Kelly Clark (bronze) take home medals.
Read the full article on Transworld
02.09.14
Slopestyle makes its debut at the Olympics
Slopestyle makes its debut at the Olympics in Sochi, Russia and Jake is there to congratulate Burton riders Enni Rukajarvi on her silver medal and Mark McMorris on his bronze.
Read the full article on Transworld
01.24.14
Vogue's Editor at Large, Hamish Bowles visits Burton
Vogue Magazine's Editor at Large, Hamish Bowles visits Burton Headquarters to get his first snowboard lesson with Jake and watch the building of his custom-designed Burton snowboard.
Read the full story on Vogue.com
12.22.13
Burton on Haight Street
12.03.13
2014 Olympic U.S. Uniforms
Jake heads to New York to unveil the 2014 Olympic U.S. Snowboarding Team uniform designed by Burton.
03.02.13
US Open in Vail, Colorado
02.01.13
Nobody Said it Would be Easy
09.27.12
VT Ski & Snowboard Hall of Fame
08.13.12
Launch of an Iconic Year
Jake and Burton launch an iconic year – Burton Winter 2013.
03.13.12
Jake and Donna Family Trip
Jake, his wife Donna and three sons, George, Taylor and Timi, take a family trip to Baldface Lodge in British Columbia.
03.10.12
US Open 30th Anniversary
Jake celebrates the 30th anniversary of the Burton US Open Snowboarding Championships.

12.13.11
Kevin's First Day Back
Jake is honored to ride with Kevin Pearce on Kevin's first day back on a snowboard since he suffered a traumatic brain injury while training for the Olympics in 2009.
09.21.11
Jake is diagnosed with testicular cancer.
In an email to employees, Jake says, 'The bad news is that I have cancer. The good news is that it is as curable as it gets.'
Read the full article on ESPN.
01.13.11
Craig Kelly Prototype Facility
Jake dedicates Burton's state-of-the-art prototype facility to the late snowboard icon Craig Kelly. By far the most sophisticated R&D facility Burton has ever built, the new space is simply called 'Craig's' and is located right next door to Burton's global headquarters in Vermont.
05.03.10
Jake once again takes on the role of Burton CEO.
As CEO, Jake will still find time to ride over 100 days a year, making many of the company's biggest decisions from a chairlift, not a desk chair.
03.20.10
Jake & thousands of fans watch Kazu & Kelly win the US Open Halfpipe.
Kazu becomes the first Japanese rider to win the US Open halfpipe and Kelly Clark is the first woman to win four US Open HP titles.
02.17.10
Jake watches Shaun become the first rider to win 2 Olympic gold medals.
Besides Shaun's second gold medal, the media can't stop talking about the US snowboard team's 'jeans' and jacket designed by Burton. Even back in the 70s, Jake knew it was cool to ride in jeans.
01.16.09
Jake & Donna head to the 10th anniversary of the Burton European Open.
They watch from the bottom of the Laax halfpipe as Kevin Pearce wins the event for the second year in a row.
02.05.08
Jake welcomes Alien Workshop, Habitat & Reflex to the Burton Family.
12.01.07
Jake is a driving force behind Burton's 'Poach for Freedom' campaign.
The contest lets riders submit videos of themselves poaching the four mountains that didn't allow snowboarding at the time. Within a couple of weeks, Taos opened to snowboarders.
03.17.07
Jake gives out the first Burton Global Open Championship awards.
The check for $100,000 is made out to Shaun White and Torah Bright at the 25th annual US Open.
12.01.06
Works with team riders to develop the first Stash run at Northstar-at-Tahoe.
Jake says: I've always been inspired by riders like Craig and Johan who are so fluid and creative with big mountain runs. That's what The Stash is all about.
06.29.06
Jake fulfills a longtime dream of owning a surf company.
Al Merrick, the legendary surfboard shaper, decides to sell Jake his company, Channel Islands. Jake and Al share similar philosophies about running boardsports companies.
03.01.06
Jake, his oldest son George, Terje, Downing & DCP travel to Russia for a shoot.
They are joined by armed guards and get dropped off by a helicopter on sketchy snowpack at the top of a mountain. Terje points out a perfect line for Jake and George to take, and it's all good from there.
02.12.06
Time for the Olympics again.
Jake heads to Italy and watches Burton riders Shaun White and Hannah Teter win gold in outerwear that Burton designed exclusively for the US Olympic Snowboard Team.
07.15.04
Acquires snowboard brands Forum, Special Blend & Foursquare.
Jake says: We've gotten tired of watching ski companies buy up snowboard brands. Forum is a company we've always respected, and it's a brand that needed to stay in the hands of riders.
04.01.04
Jake surfs and snowboards on the same day for the first time.
During the last leg of his 10-month trip, Jake surfs with Terje in the morning and snowboards that same afternoon in Stamsund, Norway.
07.20.03
Meets up with the Burton crew for a summer sales meeting in Argentina.
Terje drops by from Brazil to take some epic powder tree runs with Jake.
07.01.03
Leaves the U.S. for a 10-month trip with his family...
...To follow winter around the world. First stop is Quito, Ecuador. Jake and family snowboard and surf on six continents and have one of the best years of their lives.
01.01.03
Japan becomes the first market where snowboarders...
...make up more than 50% of resort visits. Jake is stoked to see snowboarders outnumber skiers on the hill.
12.01.02
Burton is 25. Jake is 48.
02.01.02
Heads to Park City, Utah for the Winter Olympics.
This time around, the halfpipe is perfect, and Burton riders Kelly Clark and Ross Powers take home the gold.
01.01.01
Creates ANON Optics.
01.01.99
Creates Analog Outerwear.
02.01.98
Goes to the first Olympics where snowboarding is officially a sport.
The games take place in Nagano, Japan. They spell snowboarding wrong and hold the halfpipe competition in a driving rainstorm.
01.01.98
Founds Gravis Footwear.
01.01.98
Takes his passion for teaching people to snowboard to the next level.
Jake creates Burton LTR. In 1998, Burton was the only snowboard company in the industry to focus on easy-to-ride equipment and teaching methods.
01.01.97
Has it really already been 20 years since he started Burton?
03.01.96
Jake hands out equal prize money to women and men at the US Open.
It takes the X Games until 2008 to pay women snowboarders equally.
01.01.96
Creates Burton's first separate brand – R.E.D.
R.E.D. introduces the first helmet designed specifically for snowboarding.
01.01.95
Jake decides the best way to give back to the community is through snowboarding.
Jake and Donna create 'Chill', a non-profit foundation that provides life-changing experiences to underserved urban kids by taking them snowboarding for an entire season.
01.01.94
The company opens Burton's first office in Japan.
The new office makes it easier for Jake to work directly with Japanese riders and design product just for Japan. And it also gives him a good excuse to make regular trips to Hokkaido for epic powder.
03.01.93
Terje rides his Burton pro model to a 2nd halfpipe victory at the US Open.
"The best thing about the US Open is that anyone from Terje Haakonsen to a 10-year-old kid from New Jersey gets to ride and hang out with their friends in a rider-controlled environment."-Jake
02.01.92
The Burton factory and head office relocate to Burlington, Vermont.
With 104 employees.
01.01.92
Jake and the team test out the revolutionary Burton Air boards.
01.01.90
Ashlid Lofthus tells Jake about this kid named Terje who has some serious skills.
Jake looks on as Terje Haakonsen makes his debut in the US Open halfpipe on a Micro Air. He was up against tough competition, including Jeff Brushie, Shaun Palmer and Craig Kelly.
10.01.89
Craig Kelly's first official Burton pro model hits shops.
It marks the first time that a name other than Jake's is on a Burton snowboard.
02.01.89
Jake and Donna move back to Vermont from Austria.
They successfully started a company in Innsbruck with Hermann Kapferer, expanding Burton and snowboarding to the European market.
12.06.88
Decision that prevents Craig from endorsing Burton is reversed.
Craig is now working with Jake on the first Burton signature pro model.
07.01.88
Jake, Craig, Jean Nerva, Mike Jacoby & Peter Bauer...
...take a Burton 'Safari' to New Zealand.
03.01.88
Jake gives out awards at the 1988 US Open.
Craig Kelly comes in third in the Open's first halfpipe event on a 'Mystery Air', a very mystifying high-tech board Burton built for him. It was unbranded due to a legal battle with Craig's former sponsor Sims.
01.01.87
Jake continues to lobby resorts around the country to allow snowboarders.
"I remember making a presentation in Aspen. They didn't want snowboarders, the skiers complained. But the sport had so much momentum then, it was like, 'your loss'." Now Aspen hosts the X Games.
01.01.86
The business and the sport keep growing around the world.
Over 1,000 retail shops in the U.S. alone carry Burton Snowboards' products. Independent Burton product distribution starts up in New Zealand and Australia.
01.01.85
Jake and Donna move to Europe.
They open up Burton's European headquarters in Innsbruck, Austria. Jake learns to speak German in the process.
04.01.84
Jake's bank pulls the plug on his loans.
The bank thinks snowboarding is just a fad. But his wife Donna still loves him, even when he's decked out in head-to-toe spandex.
03.01.84
Jake watches Andy Coghlan take both the US Open men's slalom and downhill.
Marianna Furhman, an employee at Burton at the time, takes first place in the women's slalom event and Holly McDonald wins the women's downhill.
02.01.84
Moves the business from his home to a larger office in Manchester, Vermont.
01.01.84
Jake develops Burton's first snowboarding outerwear line.
The line includes the "Powder Shell," "Powder Pants" and "Riding Gloves."
05.21.83
During a downpour, 29-year-old Jake marries 19-year-old Donna Gaston.
Donna's mother was concerned that Jake never combed his hair. 27+ years, three sons and many dogs and cats later, Jake and Donna are still happily married – Jake still doesn't comb his hair.
02.01.83
Jake launches the 1983 Performer.
01.01.83
Jake and his crew take a run with Stratton's ski patrol.
Wants to talk Stratton into allowing snowboarders on chairlifts. Luckily, it's a soft day, and they look like they can handle the boards. Stratton becomes the first major resort to allow snowboarders on lifts.
03.01.82
National Snowboarding Championships are organized at Suicide Six.
Jake and his crew show up and compete on the latest Burton equipment. This is the start of what is to become known as the US Open Snowboarding Championships, now held at Stratton Mountain.
01.01.82
Meets his future wife Donna at The Mill Tavern in Londonderry.
Says that offering to buy her a drink was the best idea he ever had.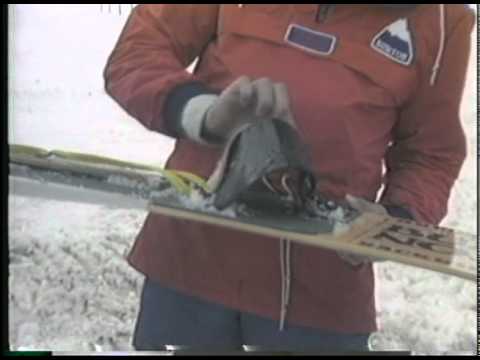 04.01.81
Jake competes at King of the Mountain.
Known as snowboarding's first contest, the event takes place at Ski Cooper in Leadville, Colorado where Jake gets a chance to show off his new aluminum fin technology.
02.01.81
Jake signs Burton's first team rider, Doug Bouton.
In the years to come, Burton will sponsor the world's best snowboarders. Craig Kelly, Shannon Dunn, Jeff Brushie, Terje Haakonsen, Kelly Clark, Nicolas Muller and Shaun White to name a few.
01.01.81
Moves the factory from Londonderry to his home in Manchester, Vermont.
The barn is the factory, the living room is the store, the basement is the warehouse and the bedroom is the office.
01.01.80
Jake, more or less alone, builds and sells 700 snowboards.
He hopes that the 133% sales increase is a trend.
06.01.79
To keep Burton afloat, he goes back to New York to teach tennis and bartend.
01.01.79
Sells a mere 300 snowboards.
Jake is forced to lay off his only employees – two relatives and a friend.
01.01.78
Jake builds everything by hand.
There are no snowboard manufacturing machines. Jake almost kills himself twice when wooden blanks shoot off his hand router and fly through a wall.
12.02.77
The Burton Backhill is born.
After building over 100 prototypes in a variety of constructions, Jake settles on laminated maple and names his first snowboard the Burton Backhill.
12.01.77
Starts 'Burton Boards' out of his barn.
By night, he bartends at the Birkenhaus. By day, he builds makeshift snowboard prototypes and tests them in the back hills of southern Vermont.
12.01.77
Bails on his New York job & moves to Londonderry, Vermont.
06.01.77
Graduates from New York University.
Works for a small investment banking company in Manhattan. Quickly figures out that the finance world is not that fun.
06.01.72
Graduates from Marvelwood high school.
After getting kicked out of a different school for 'deviant behavior', Jake graduates high school, where some of his best memories were of Snurfing on school grounds.
12.25.68
Begs for and gets a Snurfer for Christmas.
Spends lots of time at the local sledding hill on Long Island, bombing straight down on his new Snurfer.
06.01.65
Graduates from elementary school.
11.01.61
Goes skiing for the first time with his family.
At Bromley Mountain, Vermont.
05.01.58
Jake cross dresses for the first time, kicking off a lifelong past time.
In the years to come, Jake drops by Burton HQ dressed in drag as a nurse, geisha girl and army sergeant, to name a few.
09.01.57
Jake shows off his favorite hat.
Even back then, he had his own sense of style.
04.29.55
Jake and family celebrate his first birthday.
04.29.54
Born in New York, New York