Developing Youth Step On® Boots and Bindings with Microsoft Surface
In 2017, we introduced the Step On® boot and binding system. It was a two-year undertaking – a full-send example of our dedication to product innovation. Now, the challenge is to resize it for kids, and we're making it happen with the help of Microsoft's Surface devices.
Staying on the forefront of innovation takes an insane amount of time, resources, and technology. Craig's Prototype Facility at Burton HQ is filled with one-of-a-kind equipment for prototyping and building the best snowboard gear in the world. We've told the saga of developing the initial Step On system in previous blogs. More than anything, it's a story about prototyping.
Using 3D printers, we're able to produce a prototype of a new part, and get it on snow that same day. In order to do that, we need to create 3D models using CAD (computer-aided design) software. That's where the Microsoft Surface comes in.
"It's kind of like a super powerful, huge, tablet, with really high definition," explains Sam Andrikowich, one of the lead design engineers behind the Step On binding system.
According to her, the Microsoft Surface Studio and Surface Pro have become essential tools in the process. Sam's job is to take two-dimensional concept drawings and turn them into three-dimensional designs that eventually become physical prototypes.
"One of my favorite features is that you can actually write and draw on the screen," she says. "It makes it really easy to collaborate with people and work on the fly. Instead of waiting for printouts and sending things back and forth, I can just get their notes right on the screen and start working on it right away."
If anyone knows the importance of efficiency, it's Burton's resident mad scientist, Chris Doyle.
"The deal breaker is that you're not latched to the mouse," he says. "You can use your hands a lot with the touch screen. So, you get your 3D models done a lot more quickly and efficiently. It fuels innovation because you can try more things because it doesn't take you as long. My only complaint is that I don't have enough time to play with it."
With speed comes agility. Finding solutions becomes a faster process, allowing you to take a design further in a shorter period of time. In the case of Youth Step On, that's essential.
"Any time you go smaller, taking an adult product and shrinking it down for kids, it becomes extremely challenging," explains Rob Sprague, director of Engineering & Prototyping. "You're not dealing with the same biomechanics, so your priorities change. Ease of use gets raised to an even higher level. So, we're scaling it down, making it flexible, and making it as easy to use as possible for the youngest kids possible."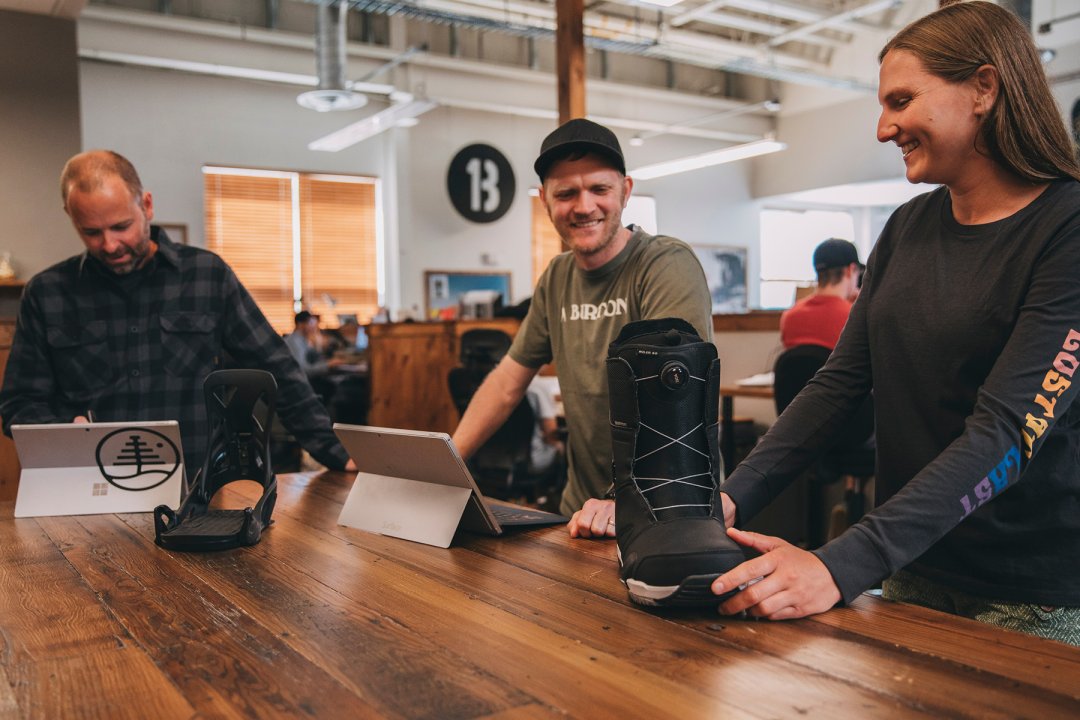 Give the right people the best tools, and the results will be big.
The Step On system is bringing ease of use and performance to riders at all levels, and it will only continue to improve and evolve. So, Microsoft, on behalf of our crew and all the riders out there enjoying Step On, thanks. You're welcome in our gondola any time.
---