Time on the Trail with Burton's Senior VP of Product, Chris Cunningham
Time on the Trail is a snapshot into the lives of Burton's senior leaders. Our passion and inspiration comes from time on the trail, both literally and figuratively. We go hard outside the office, and bring that energy to work. With that in mind, let's get out there with the big wigs, and find out what they're jamming to along the way with the Trail Mix.
Hop in with Chris Cunningham, Burton's Senior Vice President of Global Product, for his time on the trail: wakesurfing.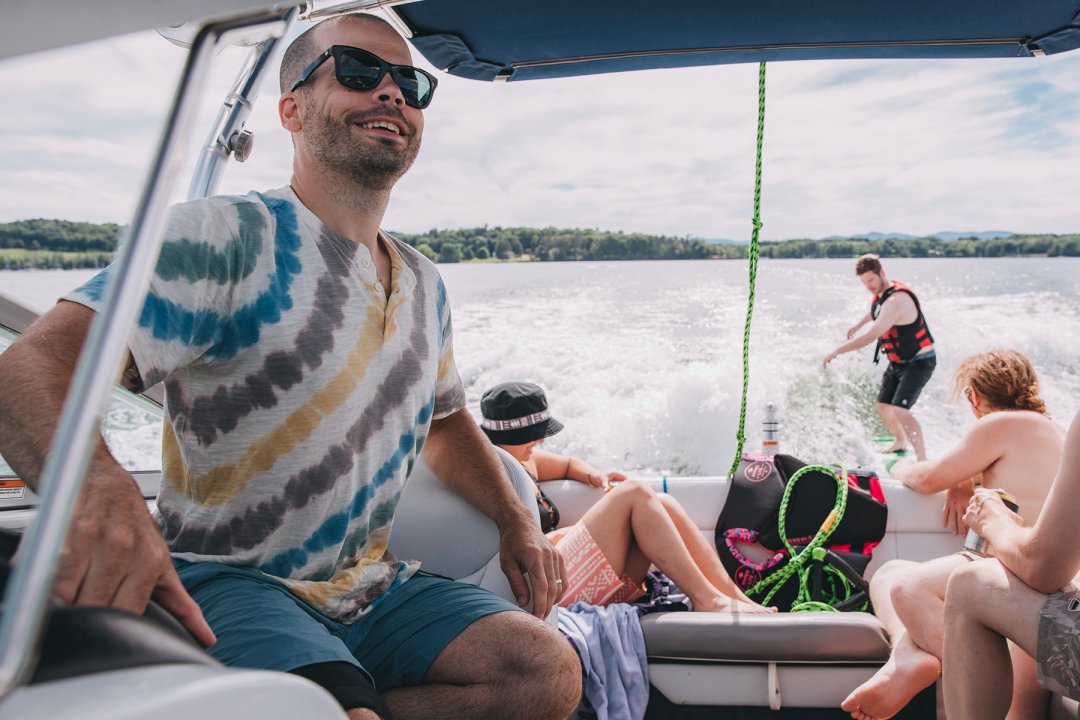 He's the mind behind our EST® binding system, cap straps, and so much more. He doesn't have an engineering degree, or any design specialty – just an obsession with the stuff that makes fun even funner.
"Once I pick something up, I tend to go all in," he explains, installing a foil on his new wakesurf board. He lives a Vermont version of the snowboard-all-winter, surf-all-summer lifestyle. Only, instead of surfing the ocean, he makes his own waves on a boat he customized for wakesurfing.
"This contraption helps make the wave curl," he says. "Doesn't hurt that the water's super glassy."
Wakesurfing is just one of Cunningham's outlets for his gear obsession gone wild. Figuring out a new sport (and all its equipment) is his favorite pastime. Mountain biking, snowboarding… anything that allows you to tailor your kit and continue to improve performance.
That's what kept him on Burton in his early days. He recalls, "My first board was a Burton. I went through a patch where I tried different stuff, and then I came back to Burton and it was like sleeping in your bed after a vacation. I was like "Dude, why did I even mess around?"

In the year 2000, he found Burton's phone number in an issue of Transworld Business Magazine and started applying for positions. He started a two-month customer service gig that led to another, which led to another. He soon found himself on ground level in the product department, and now he's at the helm.

"I've gone through the ranks where I was obsessing over a single component, losing sleep over it. Now I trust the team to do that. My job is to make sure that the 90 people in our product department have the perfect environment to be on the front line of innovation. We are an innovation house. So the question is: how do I make sure these teams have everything they need to make the most amazing product every single year?"

With ecommerce changing the way people buy their stuff, the whole company is thinking differently about what each team brings to the table, including Cunningham's.

"I think what's evolved is, we're delivering new products and innovations, but we're also bringing some customer empathy to it. This means identifying the problems we are trying to solve for our customers, and improving their experience, from the way they engage with the brand to the way they interact with the product. It's all about the customer journey and experience.

"When I get into a new sport, like with wakesurfing, I get to start a new thing and learn it all the way from square one. It's a great opportunity to reconnect with the experience of being a new customer. The challenges of learning what you need, where to get information, the technologies out there, and how to use them. I can always learn something that ties back to how we approach things at Burton. So I'm like, 'Oh I'm just doing this for the customer journey. It's all for work!'"
"Jake's taught that from day one," Cunningham says. "Always empathize with the customer.
He's our biggest critic, saying, 'This isn't there yet. How do we improve this, and what about this?' Or, 'I asked this guy on the lift, and he said this…' He's always thinking about the customer's experience."

Cunningham takes the last laps of the day trying out his new wakefoil. He rides it out longer than before, keeping speed, and linking turns. Bob Marley's blasting out over the Bose speakers so loud that he can hear it on the water. Once he nails a run that he's satisfied with, it's time to head back to the docks.

"I don't know if I coined this or someone said it to me," he says, "but you are only as good as your last product line. That's what keeps me going. The evolution never stops."
Trail Mix
Here's what Chris Cunningham's jamming to:
---