Hotel Tacoma: Not Your Average Weekend Getaway
Like glamping at its finest, this annual off-road weekend event put on by Toyota is actually far from any hotel. This year's location was Cape Lookout, Oregon and three of us Burton Girls Ambassadors were along for the ride. We had access to two miles of private beaches, acres of sand dunes, dirt trails, and muddy forests. With the addition of a small army of motorized vehicles, this traditional Boy Scout camp was transformed into an outdoor enthusiast's playground.
After driving two hours from Portland through misty mountain roads with no idea of what we were about to embark on, we reached a road sign that read "Toyotas Only Beyond This Point." We stopped the engines at an enormous teepee, where we were greeted with champagne and waited for everyone else to arrive. To officially kick off the weekend's festivities, we all gathered around to witness the lighting of a 25-foot, fire-breathing bunny monument custom built from Tacoma prototypes and motorcycle parts. From that point on, I knew we were in for one hell of a weekend.
Just like a traditional summer camp, we were given a variety of activities to choose from during each day. There was everything from paragliding, surfing, paddleboarding, and fly fishing to mini bikes, motocross, mountain biking, and side-by-sides.
Paragliding was something none of us Burton Girls had experienced before, but were all eager to try. After a quick run-through about safety with our instructors from Discover Paragliding, each of us hiked to the top of towering dunes, attached ourselves to an expert, and launched ourselves out, soaring like birds above the coastline. Later, we jumped into one of the Tacoma TRD Off Road vehicles and drove down some of Oregon's iconic logging trails. Crushing over logs and drifting around the sand dunes, it became obvious that Tacomas are beasts that can handle just about anything.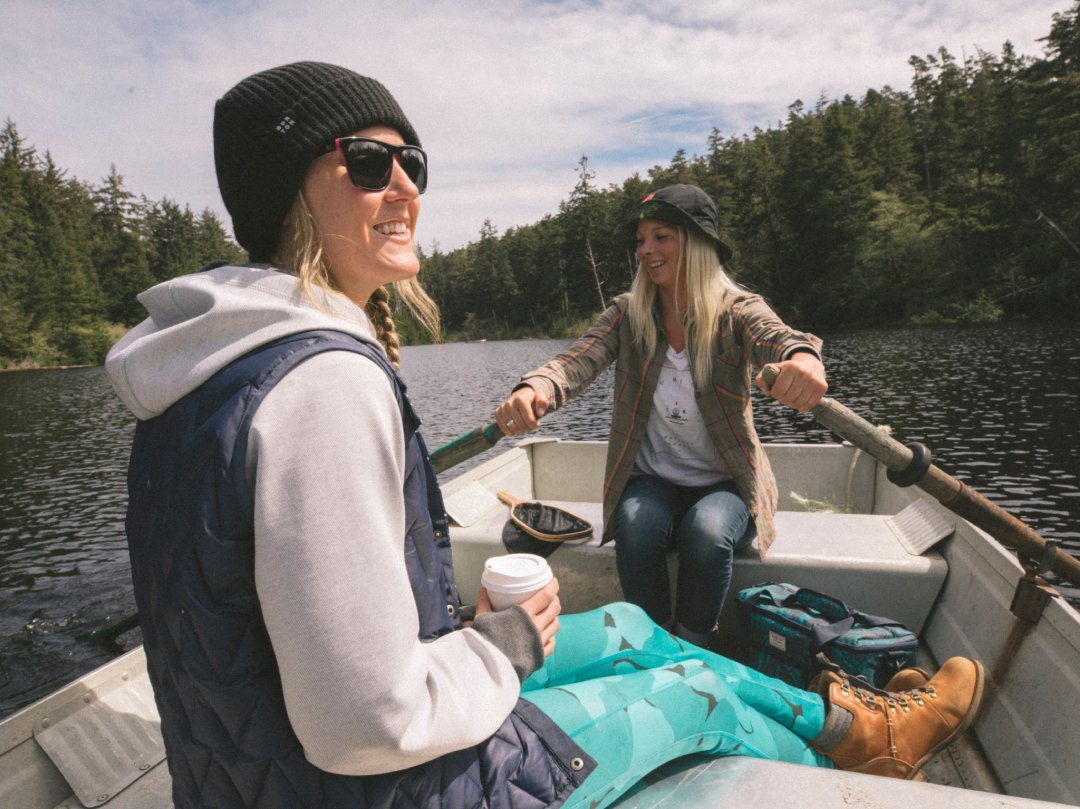 What is camping without a little fishing? We spent some time at Sand Lake, where we got to cast a few flies out in the water, row around the lake, and relax with some of Burton's camping essentials. The sitting around didn't last long, though. We needed to get the blood flowing again, this time with our hands on the throttle. That's when we took a few Yamaha dirt bikes for a romp around the dunes — that definitely had our hearts racing.
We expected rain throughout our stay (it is the Pacific Northwest after all), but the sun from Southern California must have followed. We lucked out with ideal conditions until our final evening, when the weather finally took a turn, but it did nothing to dampen the mood. Like each day, it ended with dinner cooked over an open flame, flowing drinks, mini-moto races, and plenty of stories and laughter. We left Hotel Tacoma with a few bumps and bruises, but memories to last a lifetime. I wouldn't have it any other way. ∆
All photos by Jesse Dawson.
---
Kristen explores and resides in Southern California, where she works in marketing and as a snowboard instructor at Bear Mountain. She's also a part of the Burton Girls Ambassadors Program, which highlights a diverse crew of women from all over. What ties them all together is their love of the mountains, their desire to explore, and their mission to inspire and engage with other women in their communities. With their passion and unapologetic attitudes, they're leaving their mark on the world and we're taking note. 
---