Friendly Fire: A Chef's Take on the Campfire Cookout
As Burton Girls, I think all of us crave connection to the elements. Being in nature fuels us, whether it's wind in our face as we fly down the hill, the warmth of sunshine on a perfect bluebird day, the sound of summer rain as it hits our tents, or the crackle of an outdoor fire at sunset.
I love outdoor cooking because nothing makes me feel more human and connected to the earth. Take away all the comfort and familiarity of a traditional kitchen and you are left with nothing but fire and your intuition. Getting your hands dirty, building a pit in the earth, gathering wood, strategically building a fire, and cooking a meal is one of the most primal experiences you can have. Add in great friends, amazing food and the right gear and it's a recipe for an unforgettable food adventure.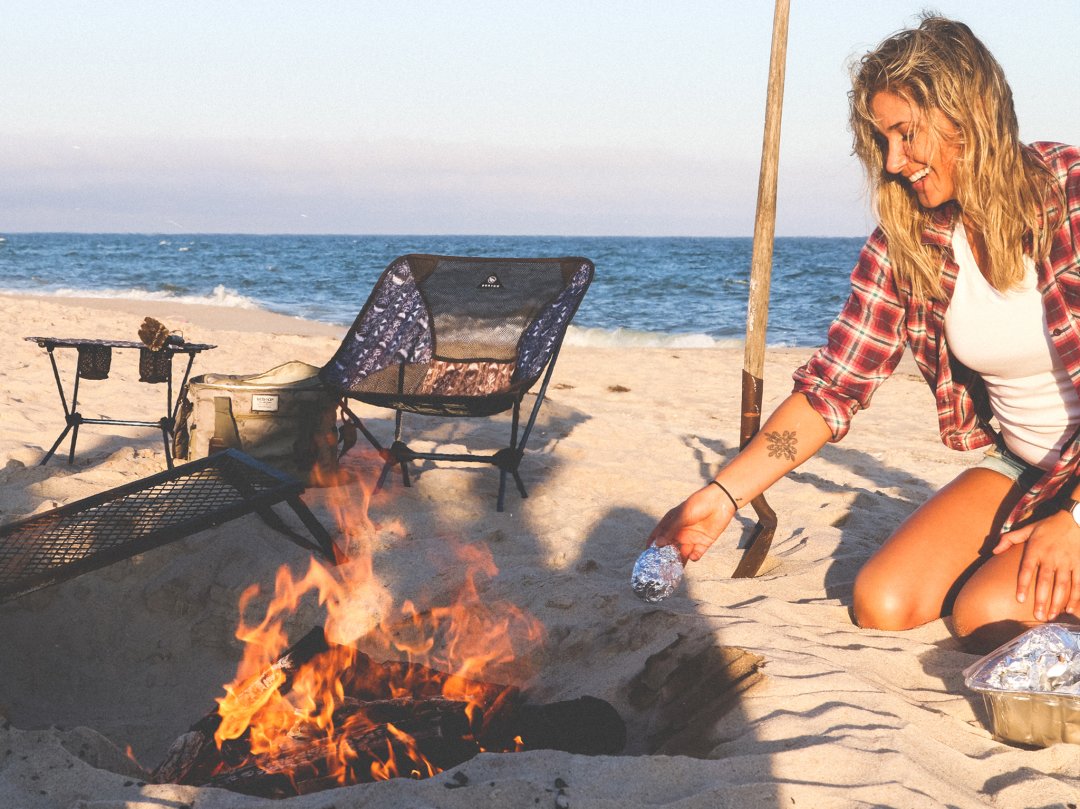 All you need is a clear area, a place to dig a pit, firewood, good friends (it's a team effort after all), a few things to throw on the grill, and a few cold ones in your Lil Buddy. Once your pit is dug, it's important to give the fire at least an hour to burn down to the coals. With a grate on top of the hot coals, or tin foil-covered food directly in the coals, you'll have a perfect heat source for cooking.

Doing a little prep beforehand goes a long way: Marinate your meats, slice your veggies, and have your salad dressings ready to go. That way, come meal time all you have to do is grill and assemble. Here's one of my favorite simple, prep-ahead recipes:

Campfire Chicken with Salsa Verde
Ingredients
1 WHOLE CHICKEN, halved, seasoned well with olive oil, salt and pepper


MARINADE:
1 garlic clove
1 bunch parsley
1 shallot


SALSA VERDE:
1 bunch parsley, chopped fine
1 small shallot, peeled and diced fine
1 lemon, zested and juiced
¼ cup green olives
2 tablespoons capers
2 teaspoons thyme
1/3 cup olive oil
1 Fresno chili, sliced
Salt and pepper
To cook the chicken, use either a cast-iron pan on a grill or place it directly on the grill over the coals. By cutting the chicken in half, you'll have a shorter cooking time and reduce the risk of burning the outside before the inside is done cooking.

Be sure you are cooking over coals, not an open flame. Once your pan is nice and hot, place your chicken skin side down and cook for at least 10 minutes undisturbed. The skin of the chicken should not stick to the pan or grill. If it does, cook it a bit longer. Flip the chicken and cook another 15-20 minutes. Keep flipping the chicken every 5-10 minutes until the skin gets nice and crispy and the internal temperature of the bird is 160 °F. A meat thermometer is crucial.
Pull the chicken off the grill and let it rest for at least 5-10 minutes before slicing. Serve with salsa verde.
There you have it. Now go show 'em who's boss around the fire. ∆


---
Alex Thomopoulos is a stand-up comedian turned chef living in Southern California. She's also a part of the Burton Girls Ambassadors Program, which highlights a diverse crew of women from all over. What ties them all together is their love of the mountains, their desire to explore, and their mission to inspire and engage with other women in their communities. With their passion and unapologetic attitudes, they're leaving their mark on the world and we're taking note.
---