Finding Artistic Inspiration in Nature with Burton Girls Ambassador Zuzy Rocka
Everyone's energized by something. 
As an artist, I often get asked where I find inspiration for my photography and illustrations. Nature is always the first thing that comes to mind. 
Art has been the biggest part of my life since I can remember. From an early age it has been my passion to create. I am self-taught when it comes to painting and drawing, but I did attend college for photography. That put me on my current career path as a fulltime photographer in the winter here at Sun Peaks, British Columbia. I also do various commissioned artworks and sell originals and prints through Alpine Images. And while I still have a ways to go before I make a name for myself as an illustrator, I'm excited to see what the future holds as I pursue that goal.
I was lucky to grow up in the interior of British Columbia, where the immense landscape and natural diversity played a huge role in my upbringing and artistic inspiration. By sketching and studying animals, landscapes, and light, I continue to learn more about the world around me, and it's reflected in my work. Being out in nature rejuvenates me during life's congested moments or when the creative wall hits. I get out there to escape my own thoughts.
Most of my artistic ideas come to me when I think the least and shut off my mind from life's static. It's when I feel a quiet connection with the surroundings that my best work happens. For me, that connection is clearest in the great outdoors. When I look at a natural landscape and take in all its beauty, I reach a state of mind that's euphoric, calming, and makes me completely present in the moment. It feels like nothing else matters.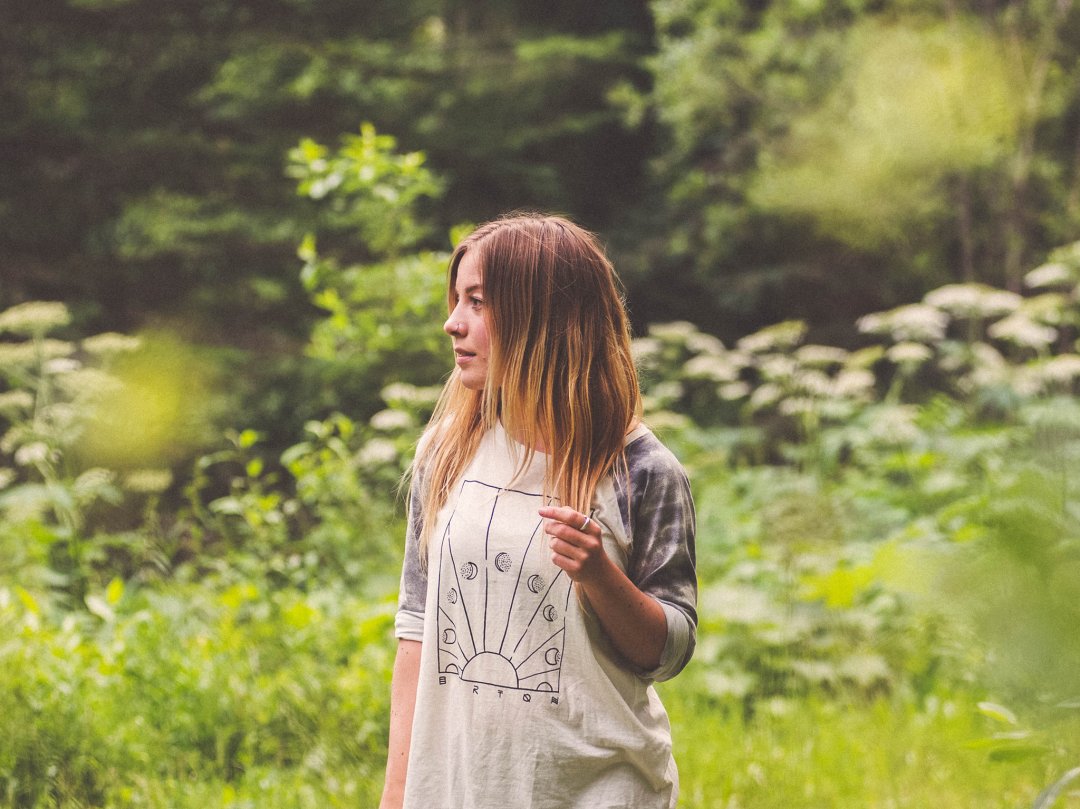 Snowboarding has that same effect on me. It's a huge part of my life, and it too brings this "living in the moment" state where I connect to my environment. Snowboarding is crucial in helping me get familiar with the mountains and immersed in winter. Though I speak from personal experience, most people who do action sports would agree that they get a similar feeling. There are many quotes from various books that speak to this: The adrenaline clears your mind and makes you present. Out in nature, it's the ultimate escape. For me, it's another element that feeds my creative energy. 
Whether you create art or not, there's a lot to be said for how losing ourselves outside releases stress and anxiety, and allows a state of peace to come over us. It's amazing. ∆
---
Zuzy Rocka is a professional photographer and illustrator based in Kamloops, British Columbia. She's also a part of the Burton Girls Ambassadors Program, which highlights a diverse crew of women from all over. What ties them all together is their love of the mountains, their desire to explore, and their mission to inspire and engage with other women in their communities. With their passion and unapologetic attitudes, they're leaving their mark on the world and we're taking note.
---