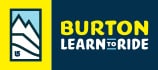 Layering

Layering helps you regulate your personal temp. Keep the cotton at home.

Outerwear

Something that will keep you warm and dry for winter weather will go a long way.

Have Fun

Your Learn To Ride Instructor is excited to teach you to ride. Relax, open up and enjoy yourself.