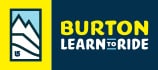 Snowboard

A board knows how much you weigh, but not how tall you are. Your board will be based on how many cookies you ate last night.

Bindings

Bindings hold feet onto the board and the Onestrap® binding makes it easier.

Boots

Good fit is everything and with the Room-To-Grow™ footbed, these boots can grow with your kid! Get the right size and see them have fun and do great!