Bags & Luggage < Travel Bags & Luggage
Wheelie Flyer Travel Bag
Under-seat simplicity for the jet-set. Low-profile carry-on for avoiding the baggage claim blues. Easy-access external organizer pocket and padded laptop stash for on-the-fly productivity.
You must choose a size first!
You must choose a size first!
"We are going to need your seatback and tray table in their full upright and locked position, sir".
"Well, I'm going to need you to get off my back and bring me another cold one. It's not enough that you crammed another row of seats into this tin can while no one was looking, but the fact that you're now calling the airline the Tijuana Taxi leaves little room for any trust on my part. This is exactly why I opted to carry on my Burton Wheelie Flyer. That, and the fact that you charge twenty bucks just to ask about checked luggage."
Scroll To Learn More
Design Features
Volume:

30L

Weight:

6.3lbs

Dimensions:

[18in x 12.5in x 9in]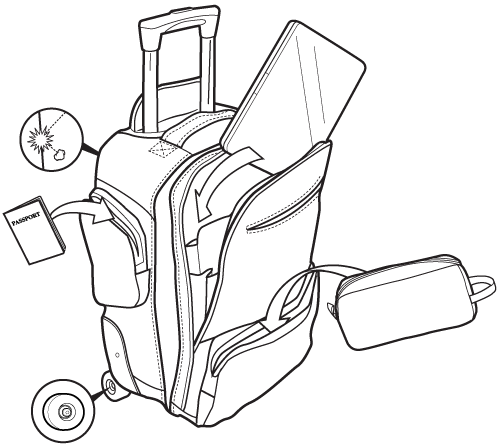 ** All Burton Bags are backed by a LIFETIME WARRANTY
600Dx1200D Polyester Dobby

IXION™ Wheel System

Lightweight and lightning-fast skate wheels complete with custom graphics. Best of all, the wheels are easily replaceable should your bag break down on the road.

Padded Easy Access Laptop Compartment [12in x 11.5in x 1.5in] [30cm x 29cm x 4cm]

Keep your laptop safe, secure, and easily accessible. While we offer an array of sizes to fit most laptops, please remember to measure your laptop's dimensions before choosing your bag.

Lockable, Contoured Zipper Pulls Fit TSA-Approved Locks

Front Organizer Compartment with Dividers

Meets Most Airline Carry-On Size Restrictions, Pretzels Anyone?