Family Tree Spliff Snowboard
Splitboard meets short board. A cold smoke cannon in a Raduced profile.
You must choose a size first!
You must choose a size first!
** Interface, Skins, and Crampons Sold Separately Through www.voile-usa.com
** Bindings, Skins and Crampons Sold Separately Through www.sparkrandd.com
** Diecut Base Color Combinations May Vary
The Spliff is a splitboard that packs big board float and stability into the nimbleness of a 148cm.
The smoky secret is an optimization of waist width, flex, and board shape that allows you to downsize 8 to 10cm from normal. It's as floaty and fun as the Nug; it just splits in two for open access to untracked terrain. Be warned, this mind-shifter is not for the crusty crowd, but who gives them the right to shred all our pow?
Scroll To Learn More
Bend
springloaded
Speed and float are your friends, and that's what S-Rocker™ is all about. While the design specifics vary between boards, the basics are an entry rocker that extends from the nose to under your front foot, then transitions to either camber or flat between your feet. This design causes the entry rocker to lift the nose, thus improving float while maintaining momentum and stability through deep-driving pow turns and variable conditions.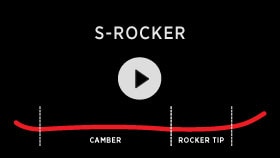 Terrain

Personality

Width

Design Features
Shape: Directional Shape , 5MM Taper
Flex: Directional Flex
Core: Super Fly II™ Core , Dualzone™ EGD™
Base: Sintered Base
Fiberglass: Triax™ Fiberglass
Raduction Level: RADUCTION LEVEL: 10 [Downsize 8 to 10cm From Normal Board Length]
Squeezebox
This patent-pending technology improves pop and performance through the balance of thicker, more powerful core sections with thinner, more flexible sections. Rider energy is transferred outward from beneath the feet, energizing the tip and tail while making the board snappier, more stable, and easier to manipulate.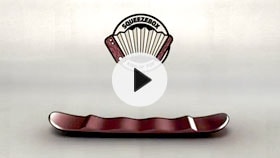 Side Effects
This patented design lengthens the surface area at the tip and tail contact points to improve edge-hold and allow the board to plane easier in pow. Enjoy a livelier feel and enhanced grip on groomers along with added float for overhead days.
Pro-Tip™
A tapered tip and tail thickness reduces swing weight for easier mobility.
Infinite Ride™
This Burton-exclusive technology allows us to maximize pop and strength by overbuilding the board, then putting it in a machine that breaks in the board for you. Whether you choose to ride Springloaded, Rocker, or Camber, rest assured that with Infinite Ride™ your board will maintain its flex, pop, and feel from the first day forward, season after season.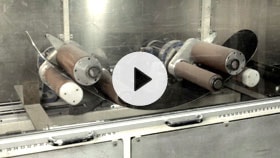 Winner of Backcountry Magazine's 2013 Editor's Choice Award
Ultimate Set-up
For the best performance, ride these together
The Classic Snowboard Binding

Family Tree Spliff Snowboard

Driver X Snowboard Boot