This 60/40 cotton plus nylon partnership results in a tech hoodie that's ideal for everything from spring road trips to holiday camp outs.
We favor the tech hybrid construction of the Ravine because an extra soft French terry knit cotton blend body fabric with Mist-Defy sheds the elements. Nylon-cotton overlays in the sleeves, back and hood create a bonded layer of resistance to unforeseen weather. Zippered hand stashes, adjustable draw cord hood and a sleek street fit make it the perfect hoodie-to-jacket ratio for outdoors action.
Scroll To Learn More
Design Features
DRYRIDE Mist-Defy Cotton/Polyester Blend Fleece
Water-repellent, quick-drying, and moisture wicking, Burton Tech Apparel with DRYRIDE Mist-Defy performs while maintaining the soft, stretchy, and comfortable benefits of cotton.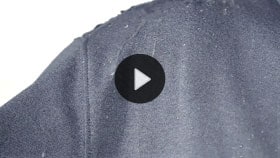 Cotton/Nylon Fabric Bonded to Sleeves, Yokes, and Hood with DWR Coating
The Durable Water-Repellent coating is formulated to break down the surface tension of any moisture that comes into contact with it—causing water droplets to bead up and roll off before they crash your party.
Rib Knit Cuffs and Hem
Zippered Handwarmer Pockets
Hood with Draw Cord
Classic Fit