MUSIC / ART
DJ IKU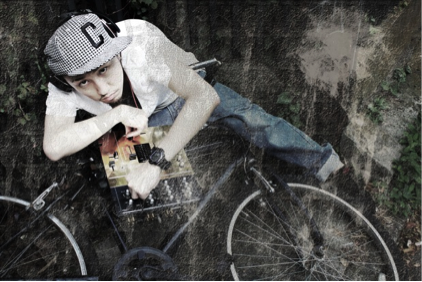 DJ IKU was born in Saitama, a city in Japan north of Toyko.
His father was a University Professor and his mother was a member of a theatrical company. He grew up listening to Rock'n Roll Oldies under the influence of his parents. When he was 18 years old, he went to a club for the first time. At this club he witnessed something he had never seen before. It was a DJ competition called, "DMC JAPAN FINAL 2002". He was so intrigued with what he saw that day that he knew he wanted to be a part of this DJ culture. That day DJ IKU was born.
DJ IKU began practicing every day. Three years later his skills were as good as the DJ's that were considered the best throughout Japan. He was finally good enough to compete in the DMC JAPAN FINAL. From 2005 through 2010 he competed and received many awards.
He won the "Red Bull Street Style DJ Battle Japan Final" in 2008 and was blessed with a gold panel DJ mixer from DJ Q-BERT, who is known as the God of scratch.
In 2010, at the "Red Bull Thre3Style Japan Final Party Rock DJ" competition, DJ IKU came in first place. He also competed in the world tournament, "Red Bull Thre3Style World No.1 Party Rock DJ" that same year, which was held in Paris, France. He was the only one Asian DJ competing at that event. He received outstanding recognition from the world- famous DJ Jazzy Jeff.
DJ IKU is well known through-out Japan and abroad. He DJ'ed at the world's largest beach party "Big Beach Festival" at Makuhari Seaside Park in 2012 and 2013, playing alongside Chemical Brothers, Fatboy Slim and many other well-known artists.
You can find DJ IKU, DJing at parties throughout the whole country and keeping the floor rocking and making the people dancing.
https://twitter.com/DJIKU
https://www.facebook.com/dj.iku
http://instagram.com/dj_iku/
KANE
From mid 90's till today, Kane's art can be viewed over a wide variety of canvas, including the streets of Tokyo, to the Art Tower Mito, and even in the Tokyo Future Museum. Many of this artist's designs can be viewed on album covers such as 246 GRAPHIX . All of Kane's works have been accomplished while managing his own brand, "STUDIO PEAK▲HOUR." Be on the look out!
KAZZROCK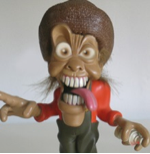 Famous for founding the artist group VANGUARD; this groups interest's included graffiti art, hip-hop, and skateboarding. VANGUARD was started at a time when graffiti itself was not well established in Japan, from the second half of 1980's to early 90's. After that, Kazz Rock travelled to US to improve his graffiti skills, and met up with a new crew on the west coast, CBS (Can't Be Stopped).
After travelling back and forth from the US and Japan, Kazz Rock's first exhibition was held in Harajuku. Beyond that, he has also worked on collaborations with street wear, sneaker, and sports brands. While at the same time, working on art work designs for album covers, garage kits, bicycles, and snowboards.
Since he loved riding, KAZZROCK created a fad for scooters after collaborating with a local bike shop. In the early 2000's, he entered the All Japan Road Race Championship and for 2 years as his original apparel brand developed, and he designed different bike colors, riding suits, as well as helmets that grew the brand.
KAZZROCK was not only a talented as an artist. He worked in other various fields such as editorial design, writing in magazine columns, as a radio personality, and he even devoted time to participate with charities.
http://www.kazzrock.com
KRESS EYE

Born in 1976, hailing from Kanagawa, Japan KRESS EYE's artistic style imparts influence from all over the world. Including California where KRESS went to high school and began lettering. Progressive style and original lettering elevate KRESS's art making it popular among all walks of life.
http://kress.scacrew.org/