60/40 is the cotton/nylon blend of this water-repellent hoodie, but two-to-one is how much more protection you'll get when wearing this sweatshirt on days with uncertain forecasts.
The reason is twofold. First, the extra soft and eco-minded bamboo body fabric features DRYRIDE Mist-Defy to repel whatever falls from the sky. Just as important are the water-resistant cotton/nylon overlays on the sleeves, back and hood. This 2-layer bonded construction gives the Piper a distinctive upscale style when dodging storms—on your way to the summit, or simply the corner store.
Scroll To Learn More
Design Features
60/40 Cotton/Nylon Overlay on Back and Hood [600MM]
Zippered Handwarmer Pockets
Adjustable Hood Draw Cord
Jersey Knit Fabric with DRYRIDE Mist-Defy
Water-repellent, quick-drying, and moisture wicking, Burton Tech Apparel with DRYRIDE Mist-Defy performs while maintaining the soft, stretchy, and comfortable benefits of cotton.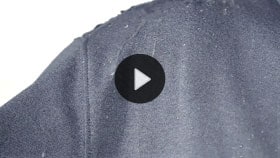 Bonded to Sherpa Fleece
Get the look and feel of lamb's wool without the guilty conscience. Sherpa fleece combines warmth and the ability to keep you dry in a super soft and cozy package.
Water-Resistant 60/40 Cotton/Nylon Bonded to Sleeves
DWR Coating
The Durable Water-Repellent coating is formulated to break down the surface tension of any moisture that comes into contact with it—causing water droplets to bead up and roll off before they crash your party.
Rib Knit Cuffs and Hem