The Hail snowboard boot combines added tweak with pro stock support in a boot that matches the style of riders like Jeremy Jones.
With more rebound and well-rounded attitude than the Rampant, it now includes Exo-Wrap injection molding on the shell for ramped up mid-foot wrap and responsiveness. The AutoCANT outsole science is as advanced as it gets, settling your foot into a more relaxed position for improved comfort, reduced fatigue, and smoother control across the entire mountain.
Support Rating
Softer
1

/10

2

/10

3

/10

4

/10

5

/10

6

/10

7

/10

8

/10

9

/10

10

/10

Responsive
Scroll To Learn More
Lacing
Traditional Lacing

No fancy wires, reels, or handles, just a couple of laces for that tried and true feel and customized fit.

NEW Exo-Wrap Reinforced Two-to-One Lower Zone Lacing

Gives you more pulling power with less effort, making it easier to dial in the fit of the lower zone for added heel hold and mid-foot wrap while leaving the top loose for more mobility.
Flex / Response
Shrinkage™ Footprint Reduction Technology

Reduces the boot's overall footprint one full size, meaning a men's size 10 fits like a size 10, but has the footprint of a typical size 9. Shorter, lighter, sleeker—never suffer from toe drag again.

Articulating Cuff

Allowing the upper and lower zones of the boot to flex independently creates fluid forward motion, minimizes shell distortion, and maximizes heel hold and response.
Flex Spine Backstay

Get effortless medial and lateral mobility with ample edge-to-edge support for when it's time to throw down the landing gear.

NEW Power Up Medium Flex Thin Profile 3D® Molded Tongue

For greater rebound and durability, we have upgraded the majority of our 2014 boots to this new dual density tongue construction. Like all our Thin Profile 3D® Molded Tongues, it's available in one of three flex options based on the boot. For even greater response, check the thermoplastic-reinforced Power Up Plus Tongue on the Driver X.
Cushioning / Traction
Holy Shit Outsole

This revolutionary cushioning combines support, response, and canted comfort in amazing ways. A primary midsole promotes toe-to-heel response, support, and cushioning. Beneath that, the secondary, AutoCANT Cushioning dual-density EVA midsole uses denser EVA laterally for support, and a softer, more cushioned EVA medially to allow your foot to roll naturally, reducing stress on your joints and ligaments.

AutoCANT Cushioning

Dual-density EVA allows your foot to settle into a more natural and relaxed position, resulting in improved comfort, reduced fatigue, and smoother, more direct board control.

Total Comfort Construction

Get an instantly broken-in feel right out of the box. Total Comfort's industry-exclusive construction eliminates the break-in period for a fit that feels just as good from day 1 to 100.
Snow-Proof Internal Gusset

All Burton boot tongues feature an internal gusset construction to completely seal the lower zone of the boot, keeping feet warm and dry.

Level 2 Molded EVA Footbed

Lightweight and long-lasting shock absorption.

ESS Support Shank

The added support reduces fatigue while preventing your arch from collapsing on itself when you bomb drop a 40-footer.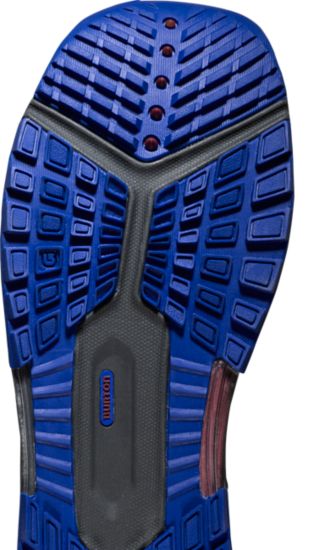 Liner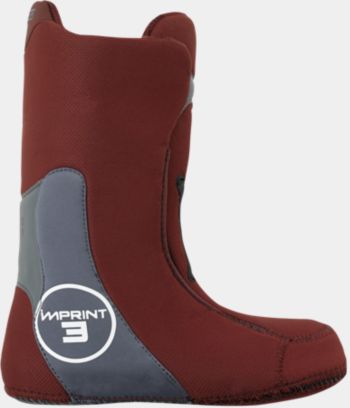 Imprint™ 3 Liner

1. Focus Cuff Heel Hold System with Velcro® J-Bar Interface and Inner Lace Lock 2. Tuff Cuff with Velcro® J-Bar Interface and Inner Lace Lock [Driver X and Felix Only] 3. Plush Cuff 1.0 [Women's Only] 4. Lightweight Power Panels [Extra Tall for Added Response on Imprint Liner 3X] 5. Sock Lock 6. Rad Pad for Lace Comfort 7. Velcro® Liner Closure 8. Level 2 Molded EVA Footbed with ESS Support Shank and Aegis™ Antimicrobial Coating 9. Heat-Moldable

Focus Cuff

Boosting heel-hold by hugging that sweet spot around your ankle, the Focus Cuff rides slightly higher on your ankle for increased response.
Rad Pad

Located on the top of your instep, right where the liner laces exert the most pressure, these pre-curved panels keep your feet stoked and secure.

Aegis™ Antimicrobial Coating

Inhibits foul odors. Your feet [and your friends] will thank us. Look for Aegis™ on select liners and footbeds.
Ultimate Set-up
For the best performance, ride these together
Hail Snowboard Boot

Cartel EST Snowboard Binding