Mountain guides and backcountry professionals understand the importance of warm, dry hands.
That's why the Burton [ak] Guide Glove combines DRYRIDE 2L fabric with a Guaranteed To Keep You Dry® GORE-TEX® waterproof/breathable membrane. Those who remove their hands from their gloves often to dig pits, check maps, and take photos will dig the GORE-TEX® X-TRAFIT™ tech that keeps the liner locked inside the shell. For added durability and grip that won't slip, a NEW Pittards® Oiltac panel at the sweet spot from your thumb to index finger maintains a continuously replenishing reservoir within the leather. Sprinkle in the military-grade warmth of PrimaLoft® Eco Insulation and you'll understand why riders like Jussi Oksanen and Terje Haakonsen (not to mention a slew of professional mountain guides) grab this glove on a daily basis.
Scroll To Learn More
Design Features
Easy-On/Easy-Off Zippered Closure
DRYRIDE Durashell™ 2-Layer Fabric
The DRYRIDE Durashell™ 2-layer fabric features technical weatherproofing and breathable properties in a buttery soft yet bomber package. Various insulations and lining systems can be incorporated to fine-tune the overall warmth, comfort, and breathability of the garment.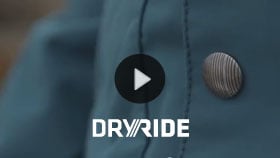 Enhanced DWR Coating
The Durable Water-Repellent coating is formulated to break down the surface tension of any moisture that comes into contact with it—causing water droplets to bead up and roll off before they crash your party.
GORE-TEX® Waterproof/Breathable Glove Membrane
Durably waterproof and breathable, the GORE-TEX® membrane is also completely windproof and super lightweight, allowing your hands to stay warm, dry, and dexterous, no matter how nasty the weather gets. All of our GORE-TEX® fabrics include the exclusive GORE-TEX® GUARANTEED TO KEEP YOU DRY® promise. GORE-TEX®, GORE®, GUARANTEED TO KEEP YOU DRY®, and designs are trademarks of W. L. Gore & Associates, Inc.
Featuring GORE® X-TRAFIT™ Technology
PrimaLoft® Eco Insulation
PrimaLoft® ECO insulation uses post-consumer recycled material to create a high loft, thermally efficient, earth-friendly insulation. Its extremely lightweight core structure suspends millions of air particles in a microfiber mesh. These microscopic air particles repel water while trapping heat to keep you warm in the nastiest conditions, even after repeated washings.
DRYRIDE Ultrawick™ Lining on Palm
Highly breathable and fast-wicking, DRYRIDE Ultrawick™ fabrics feature microscopic fibers that pull heat-robbing moisture away from your skin before they crash your party. Stretch properties enhance mobility.
Sherpa Fleece Lining on Back-of-Hand
Get the look and feel of lamb's wool without the guilty conscience. Sherpa fleece combines warmth and the ability to keep you dry in a super soft and cozy package.
Gnar Guard Leather Palm and Trim
Buttery soft and seriously supple, our Gnar Guard genuine leather combines maximum comfort with durable weatherproof/breathability. Mid-grab or full-crank, your hands will be pumped on the premium grip, feel, and flexibility.
NEW Pittards® Oiltac Leather Reinforced Grip
Developed for pro football players, Pittards' Oiltac Leather maintains a reservoir within the leather that continuously replenishes grip. Specially treated to prevent moisture intake, Oiltac Leather will retain softness and grip even after repeated washings. Featured on the men's Burton [ak] Yeti Glove/Mitt.
Extended Length Storm Cuff
At the team's request the cuffs on all Burton [ak] styles are slightly longer to better protect your wrists from biting winds and blowing snow.
Ergonomic Pre-Curved Fit
The superior dexterity of this articulated fit means your hands will always be warm and nimble no matter what kind of action you get into. Featured on every single glove and mitt we make.