The Fish continues to revolutionize the way we all ride pow thanks to a trademark recipe that combines S-Rocker™ and massive taper in a downsized deep-day rocket.
The surf-influenced design has a new double swallow-tail shape for acceleration and cornering control, while the reduced rear sidecut lets the tail sink more naturally for smoother flow from edge to edge. Both Terje and JG back the new shape with one word—awesome—which is why we're positive your next pow day will be even better.
Scroll To Learn More
Bend
springloaded
Speed and float are your friends, and that's what S-Rocker™ is all about. While the design specifics vary between boards, the basics are an entry rocker that extends from the nose to under your front foot, then transitions to either camber or flat between your feet. This design causes the entry rocker to lift the nose, thus improving float while maintaining momentum and stability through deep-driving pow turns and variable conditions.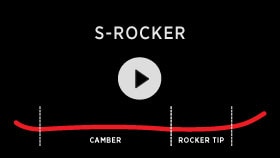 Terrain

Personality

Width

Design Features
Shape: Directional Shape , 30MM Taper , Swallow Tail
Flex: Directional Flex
Core: Super Fly II™ Core , Dualzone™ EGD™
Base: Sintered WFO
Fiberglass: Triax™ Fiberglass
Raduction Level: RADUCTION LEVEL: 6 [Downsize 3 to 6cm From Normal Board Length]
The Channel
The Channel is snowboarding's ultimate connection, offering the fastest, easiest way to mount your bindings with the most stance options possible. It's also compatible with all major binding companies, so why settle for anything less? NEW for 2014, all boards featuring The Channel are backed by a three-year warranty.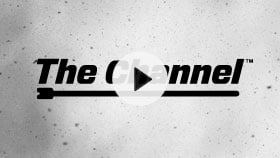 Carbon I-Beam™
This ultra-light carbon backbone increases pop and longitudinal snap.
Ellip Nose Kick
This elliptical tip shape promotes pop while providing added float and clearance when riding pow and variable conditions.
Pro-Tip™
A tapered tip and tail thickness reduces swing weight for easier mobility.
Infinite Ride™
This Burton-exclusive technology allows us to maximize pop and strength by overbuilding the board, then putting it in a machine that breaks in the board for you. Whether you choose to ride Springloaded, Rocker, or Camber, rest assured that with Infinite Ride™ your board will maintain its flex, pop, and feel from the first day forward, season after season.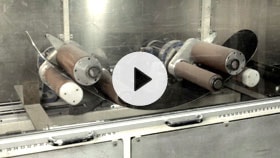 Ultimate Set-up
For the best performance, ride these together
Cartel EST Snowboard Binding

Fish Snowboard

Imperial Snowboard Boot