Sketchy climbs and exposed lines are Driver X™ domain.
A re-energized structure returns this legendary snowboard boot to the ultimate in responsiveness, while Total Comfort balances the power with a perfectly broken-in feel right from the start. The Power Spine™ backstay provides support and drive in a low-profile, lightweight package. Grippy Vibram® EcoStep™ outsoles cling to the mountain with confidence. Built with an eco-conscience, it's the only choice for riders who split, hike, sled, guide, or patrol, as well as freestyle machines who aren't scared of response.
Support Rating
Softer
1

/10

2

/10

3

/10

4

/10

5

/10

6

/10

7

/10

8

/10

9

/10

10

/10

Responsive
Scroll To Learn More
Lacing
Speed Zone™ Lacing System for True Zonal Lacing Control

Lightning fast lacing control. Customize the fit of the upper or lower zone in seconds, and because the system is so powerful, you get more rebound, more wrap, and better response—with less effort.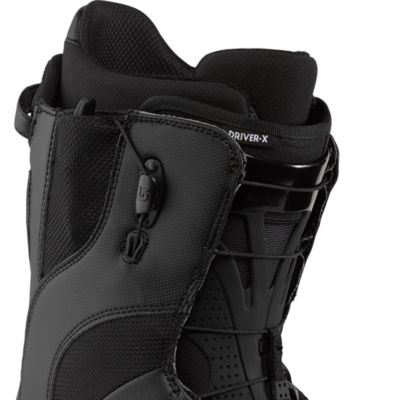 Flex / Response
Shrinkage™ Footprint Reduction Technology

Reduces the boot's overall footprint one full size, meaning a men's size 10 fits like a size 10, but has the footprint of a typical size 9. Shorter, lighter, sleeker—never suffer from toe drag again.

NEW Power Up Plus Thin Profile 3D® Molded Tongue

For greater rebound and durability, we have upgraded the majority of our 2014 boots to this new dual density tongue construction. Like all our Thin Profile 3D® Molded Tongues, it's available in one of three flex options based on the boot. For even greater response, check the thermoplastic-reinforced Power Up Plus Tongue on the Driver X.
Removable Rider Adjustable Flex [RAF] Tongue Insert

The RAF Tongue Insert lets you customize the forward flex, increasing the support, response, and life of your boots. Featured on the Driver X™ and Supreme™.

Super Grip Toe

Grip Fit ribs on the boot's toe lock into the Capstrap on Burton bindings for unmatched power and response.
Cushioning / Traction
Vibram® EcoStep™ Rubber Outsole

Get the legendary grip and feel Vibram® is famous for in a lighter weight and 30% recycled construction. Includes the added rebound and cushioning of dual zone EVA and B3 Gel in the heel and toe.

Rubber Ice Spikes

Soft and grippy with stiffer spikes that dig into ice when slipping isn't an option.

Dual Zone Cushioning

B3 Gel in the Heel and EVA in the Toe

The same cushioning found in our high-end boots for unstoppable impact protection.
Total Comfort Construction

Get an instantly broken-in feel right out of the box. Total Comfort's industry-exclusive construction eliminates the break-in period for a fit that feels just as good from day 1 to 100.

Snow-Proof Internal Gusset

All Burton boot tongues feature an internal gusset construction to completely seal the lower zone of the boot, keeping feet warm and dry.

Level 2 Molded EVA Footbed

Lightweight and long-lasting shock absorption.

ESS Support Shank

The added support reduces fatigue while preventing your arch from collapsing on itself when you bomb drop a 40-footer.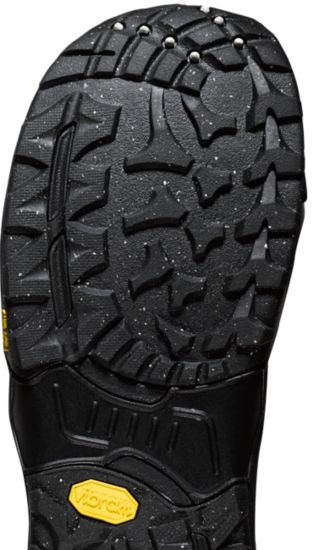 Liner
Imprint™ 3x Liner

1. Therm-ic Heat Pre-Wired [Women's Only] 2. Focus Cuff Heel Hold System with Velcro® J-Bar Interface and Inner Lace Lock 3. NEW Tuff Cuff with Velcro® J-Bar Interface and Inner Lace Lock [Driver X and NEW Felix Only] 4. Plush Cuff 1.0 [Women's Only] 5. Lightweight Power Panels [Extra Tall for Added Response on Imprint Liner 3X] 6. Sock Lock 7. Rad Pad for Lace Comfort 8. Velcro® Liner Closure 9. Level 2 Molded EVA Footbed with ESS Support Shank and Aegis™ Antimicrobial Coating 10. Heat-Moldable

Tuff Cuff

Ankle support and inner cuff stability is mandatory in a pro-level boot. Our solution is the Tuff Cuff, which increases heel hold and wraps the ankle with medial and lateral support while still flexing freely from toe to heel. Featured on the SLX, Ion, NEW Ion Leather, Rover, Driver X™, Supreme, and Felix™.
Rad Pad

Located on the top of your instep, right where the liner laces exert the most pressure, these pre-curved panels keep your feet stoked and secure.

Aegis™ Antimicrobial Coating

Inhibits foul odors. Your feet [and your friends] will thank us. Look for Aegis™ on select liners and footbeds.
Ultimate Set-up
For the best performance, ride these together
Custom X Snowboard

Driver X Snowboard Boot

Diode EST Snowboard Binding