A generous jacket is hard to find, yet every purchase of the philanthropic Burton Chill Jacket helps support the mission of the Chill Foundation: to provide at-risk youth with a chance to ride.
It's a worthy cause, but it's also a great jacket with hoodie-style comfort and three DRYRIDE fabrics for technical performance. Quilted patterning, subtle color blocking, and a hidden sound pocket create a uniquely identifiable mix of function and original style.
Scroll To Learn More
Design Features
DRYRIDE Mist-Defy Cotton/Nylon Fabric
Water-repellent, quick-drying, and moisture wicking, Burton Tech Apparel with DRYRIDE Mist-Defy performs while maintaining the soft, stretchy, and comfortable benefits of cotton.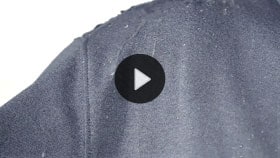 DWR Coating on Hood and Upper Body
The Durable Water-Repellent coating is formulated to break down the surface tension of any moisture that comes into contact with it—causing water droplets to bead up and roll off before they crash your party.
DRYRIDE Ultrawick™ Polyester/Cotton Chambray Lining
Highly breathable and fast-wicking, DRYRIDE Ultrawick™ fabrics feature microscopic fibers that pull heat-robbing moisture away from your skin before they crash your party. Stretch properties enhance mobility.
DRYRIDE Thermex™ Polyester Insulation
Highly breathable, quick-drying, and warm—DRYRIDE Thermex™ fleece provides core insulation while transporting heat-robbing moisture away from your First Layer® to keep you dry from the inside out. DRYRIDE Thermex fleece is offered in multiple weights and styles, making it easy to dial in your comfort level depending on what the day demands.
Zippered Handwarmer Pockets with Brushed Tricot Lining
Chest Pocket with Hidden Closure
Pivot Sleeve Construction for Added Mobility
Hood with Shock Cord
Internal Media Pocket with Headphone Cable Port
Classic Fit