When your idea of a "drafty barn" involves reclaimed wood benches and a finely curated selection of micro brews, look to the Burton Brighton Jacket for a shot of rustic authenticity.
The weatherproof combo of DRYRIDE Mist-Defy cotton/poly shell fabric and a breathable DRYRIDE Ultrawick™ Oxford lining add a dose of practicality to this vintage style, while extra touches like a corduroy collar and zippered chest pocket keep it true to its roots.
Scroll To Learn More
Design Features
DRYRIDE Mist-Defy Cotton/Polyester Shell Fabric
Water-repellent, quick-drying, and moisture wicking, Burton Tech Apparel with DRYRIDE Mist-Defy performs while maintaining the soft, stretchy, and comfortable benefits of cotton.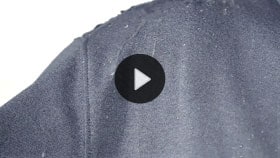 DRYRIDE Ultrawick™ Oxford Body Lining
Highly breathable and fast-wicking, DRYRIDE Ultrawick™ fabrics feature microscopic fibers that pull heat-robbing moisture away from your skin before they crash your party. Stretch properties enhance mobility.
Taffeta-Lined Sleeves
Taffeta offers a crisp, high-end feel that is woven using a mix of synthetic fibers. Its unique hand feel and sheen make it ideal for printing and embossing, and like all Burton linings it wicks, dries quickly, and breathes easily to keep you dry from the inside out. Sleep easy knowing recycled materials are available within the GMP collection.
Corduroy Collar
Hidden Zipper Center Front with Buttons and Braided Loops
Dual-Entry, Brushed Tricot-Lined Handwarmer Pockets with Snap Closure
Zippered Chest Pocket
Mitered Adjustable Cuffs
Back Vent
Quickly and easily open and close your Pit Zips™ and thigh vents without the annoyance of having the zipper get caught in the mesh. Featured on all men's and women's jackets and pants.
Internal Media Pocket with Headphone Cable Port
Classic Fit