When it comes to cold weather comfort, don't bet on your usual hoodie.
Multiply winter fun with the NEW boy's Double Down Fleece. A strategic combo of breathable, quick-drying DRYRIDE Thermex™ fleece sleeves and hood plus the soft feel of a water-repellent cotton blend body fabric equals best of both worlds comfort. Fresh fabrications including denim and flannel are ready for school or chilling, while the Velcro® handwarmer pockets and lightweight Thermacore™ insulation add extra warmth for the mountain.
Scroll To Learn More
Design Features
Cotton Blend Body
Denim Body Fabric [True Black Colorway]
Velcro® Handwarmer Pockets
DRYRIDE Thermex™ Fleece Sleeves and Hood
Highly breathable, quick-drying, and warm—DRYRIDE Thermex™ fleece provides core insulation while transporting heat-robbing moisture away from your First Layer® to keep you dry from the inside out. DRYRIDE Thermex fleece is offered in multiple weights and styles, making it easy to dial in your comfort level depending on what the day demands.
DRYRIDE Mist-Defy
Water-repellent, quick-drying, and moisture wicking, Burton Tech Apparel with DRYRIDE Mist-Defy performs while maintaining the soft, stretchy, and comfortable benefits of cotton.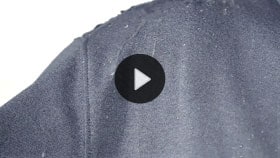 Yarn-Dyed Flannel Body Fabric [Plaid Colorway]
Lightly Insulated with Thermacore™ Insulation
Developed for superior warmth-to-weight, Thermacore™ cranks the heat without limiting mobility. We offer Thermacore in a variety of weights, and in select styles fine-tune the amount of insulation in the body, sleeves, and hood for focused warmth and breathability.
Center Front Stormflap™ with Zip and Snap Closure
Rib Knit Hem and Cuffs