When it comes to boots, the right fit, comfort, and support is more than important: it's everything.
Softer, lighter, and more forgiving than anything you've worn before, the Bootique is developed to make your riding smooth and effortless. Slip your feet into the NEW Imprint 2 liner with cozy Lock-Up Cuffs and crank in the performance with the upgraded Speed Dial lacing system for faster performance. On seriously cold days, Hot Pockets pack plenty of heat to keep your toes happy and warm.
Support Rating
Softer
1

/10

2

/10

3

/10

4

/10

5

/10

6

/10

7

/10

8

/10

9

/10

10

/10

Responsive
Scroll To Learn More
Lacing
Speed Dial Lacing System

The Speed Dial lacing system is a faster upgrade for riders who prefer to twist their laces tight. Unlike other systems that need to be locked and unlocked, our micro-adjustable, self-locking system saves time by letting you tighten or loosen the fit without starting over. Exit is easy with a quick pull of the dial-top loop.

Velcro® Closure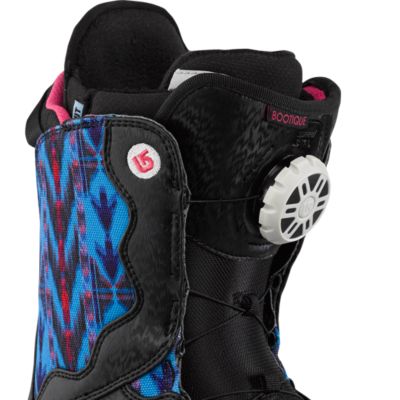 Flex / Response
Soft Flex 3D® Molded Tongue

Adjusting the profile of the tongue's thickness controls its flex, enhances its ability to wrap the foot/ankle/lower/leg, and reduces shell/liner stack-up for improved comfort. Offered in soft, medium, and firm flexing options.
Cushioning / Traction
Women's-Specific True Fit™ Design

Enjoy a more harmonious connection with Burton's True Fit™ women's boards, boots, and bindings. True Fit means that every element of every piece of your setup—from boot liners to lace guides, baseplate to strap designs, board shapes to flex profiles—has been designed and engineered for the way women ride. Because when it fits right, it rides better.

Lightweight, Low-Profile EST™ Optimized Midsole

EST® goes beyond bindings by optimizing the soles on select boots for a more direct connection. Lower-profile, lighter weight, and with a reduced ramp angle, EST lowers your center of gravity and improves feel. All without sacrificing an ounce of cushioning thanks to ultra-dampening B3 Gel inserts.

B3 Gel

The same cushioning found in our high-end boots for unstoppable impact protection.
Total Comfort Construction

Get an instantly broken-in feel right out of the box. Total Comfort's industry-exclusive construction eliminates the break-in period for a fit that feels just as good from day 1 to 100.

Snow-Proof Internal Gusset

All Burton boot tongues feature an internal gusset construction to completely seal the lower zone of the boot, keeping feet warm and dry.

Level 1 Molded EVA Footbed

Lightweight and long-lasting shock absorption.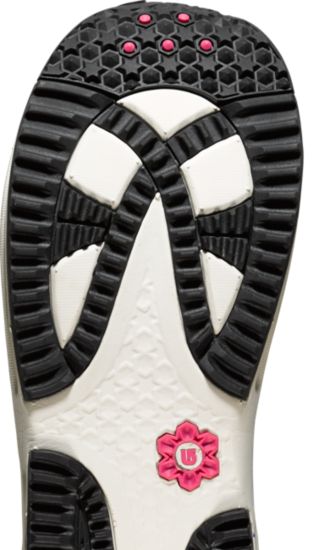 Liner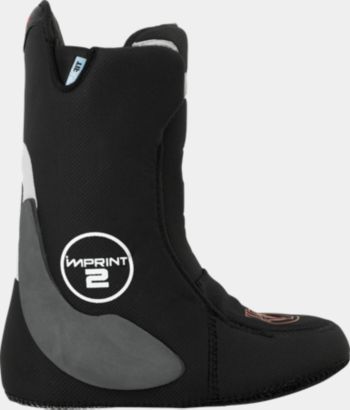 NEW Imprint™ 2 Liner

1. NEW Lock-Up Cuff and Inner Lace Lock 2. NEW Plush Cuff 1.0 [Women's Only] 3. Lightweight Power Panels 4. Hot Pockets Heated by Little Hotties® [Women's Only] 5. Velcro® Liner Closure 6. Level 1 Molded EVA Footbed 7. Heat-Moldable

Lock-Up Cuff

This super low-profile inner cuff carries the laces across the forefoot and ankle for ultimate heel hold with effortless entry and exit.
Plush Cuff 1.0

The Plush Cuff 1.0 hugs your calf like no other thanks to a combination of medial and lateral neoprene stretch zones and a super soft fur lining. Featured on the Felix, Ritual, Memento, Emerald, Bootique, and Sapphire™.

Hot Pockets Heated by Little Hotties® Disposable Toe Warmers [Includes Two FREE Pairs]

Select women's Imprint™ liners are built to accommodate a disposable toe warmer! Just slip one of the included Little Hotties® toe warmers into the neoprene sleeve on the top of your foot and feel the heat.
Ultimate Set-up
For the best performance, ride these together
Social Snowboard

Bootique Snowboard Boot

Scribe EST Snowboard Binding