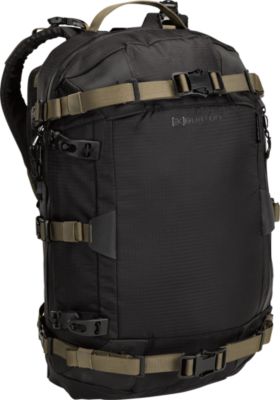 [ak] 23L Pack
Low-profile with all the out-of-bounds essentials for travelling via two feet or four strokes. Lightweight, bomber durability, with multiple board carry options to boot.
You must choose a size first!
You must choose a size first!
Some say the best turns are the ones you earn…maybe, maybe not.
Either way the Burton [ak] 23L Pack offers options when it comes to hauling gear uphill, including a low-profile Sled-Ready Horizontal Board Carry™ as well as a super secure vertical board carry. Internal probe storage and convenient shovel pocket keep tools at the ready, because if trouble strikes, every second counts. Additional amenities include a fleece-lined pocket perfect for goggles, sunglasses, or GPS, easy hydration sleeve compatibility, and a triple-pack compression system to keep everything cinched tight. Low-bulk and lightweight, it's a favorite for team riders Terje Haakonsen, Jeremy Jones, and Jussi Oksanen when the day involves dipping out of bounds or diving deep into the backcountry.
Scroll To Learn More
Design Features
Volume:

23L

Weight:

3.1lbs

Dimensions:

[21in x 10in x 6in]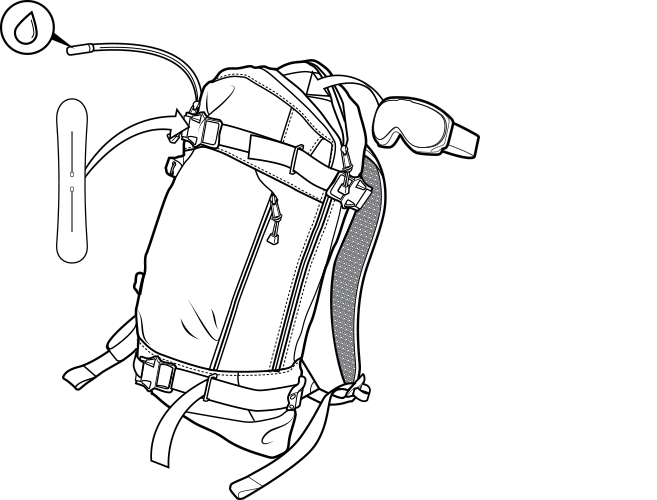 ** All Burton Bags are backed by a LIFETIME WARRANTY
70D Nylon Ripstop bonded to Nylon 420D and 210D Nylon Ripstop Lining

Cush Ergonomic Shoulder Harness

Ergonomic Back Panel

Sled-Ready Horizontal Board Carry™

Open the back panel and slip your sword in for a horizontal carrying system that works perfectly with your body when sledding in the backcountry, or hiking under low-hanging branches.

Vertical Board Carry and Triple-Strap Pack Compression System

We introduced this revolutionary feature over two decades ago. Designed for mobility and ease-of-use, this system prevents the tail of your board from banging against your legs for fatigue-free, balanced hiking.

Easy Access Internal Shovel and Probe Storage Pocket

We offer a full array of shovel carry options including external storage for instant access and internal storage for those building kickers. Check the details on each pack to find the pocket that works for you.

Fleece-Lined Goggle / Accessory Pocket

Hydration Compatible

Includes a secure spot for your hydration sleeve and routing for the tube.

Waist Strap

We offer an array of waist straps built with everything from super cushioned foam to stealth, low-profile webbing.