Deep in Vermont's Northeast Kingdom, between the Canadian border and Burton's Burlington headquarters there's a mountain with no name.
Distinguishable only to the most skilled trackers, no roads lead there, and disputed land litigation keep prying satellites from zeroing in on its pristine slopes. While the pitch is steep and the snow is blower, only those with true vision will see past the dense undergrowth to its true potential. Should you come across this fabled peak, at its base you will find a solitary van. How the weathered van got there, most will never know, but behind it's heavily tinted windows and wall-to-wall shag carpeting you will find the first ever Burton [ak] 15L Pack, or so the story goes. Tall tales aside, the 15L is our lowest-profile, lightest weight backcountry pack, built with a super slim design that leaves plenty of room for getting weird in the woods with all the essentials.
Scroll To Learn More
Design Features
Volume:

15L

Weight:

1.9lbs

Dimensions:

[20in x 9in x 4in]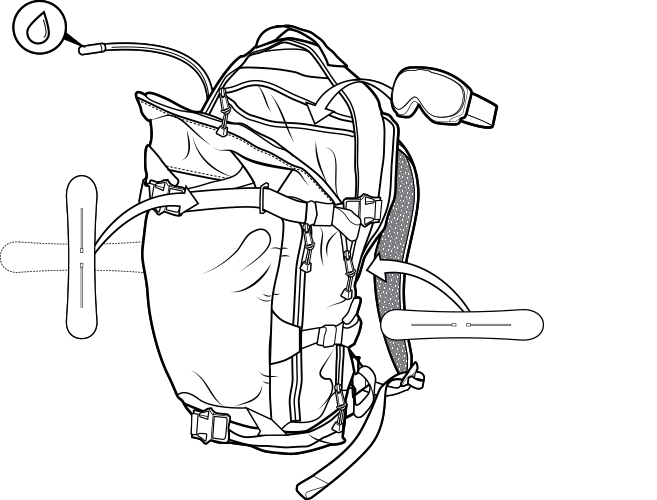 ** All Burton Bags are backed by a LIFETIME WARRANTY
70D Nylon Ripstop bonded to Nylon 420D and 210D Nylon Ripstop Lining

Cush Ergonomic Shoulder Harness

Ergonomic Back Panel

Vertical Board Carry and Pack Compression System

We introduced this revolutionary feature over two decades ago. Designed for mobility and ease-of-use, this system prevents the tail of your board from banging against your legs for fatigue-free, balanced hiking.

External Pole Storage

Easy Access Internal Shovel and Probe Storage Pocket

We offer a full array of shovel carry options including external storage for instant access and internal storage for those building kickers. Check the details on each pack to find the pocket that works for you.

Goggle / Accessory Pocket

Hydration Compatible

Includes a secure spot for your hydration sleeve and routing for the tube.

Waist Strap

We offer an array of waist straps built with everything from super cushioned foam to stealth, low-profile webbing.